Di-Dy is the data analytics solution for decision making
Created by the leading experts in the transformation of organizations, Di-Dy captures, processes, analyzes and correlates data from all areas of the organization to assess your business.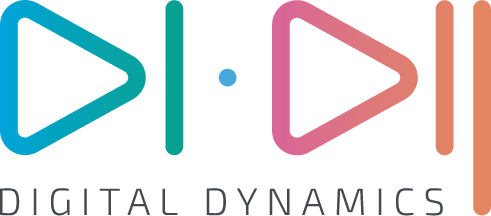 Take advantage of existing data in your organization
Di-Dy enables you to understand your company through your own data, and to correlate numerous sources that already exist within your infrastructure.
Anticipate your needs
Di-Dy provides real-time insights on the trends which drive your business and filters from all the data through a series of precise indicators and personalized reports. Your corporate objectives such as productivity, agility, innovation, or the attraction and retention of talent will be considered in the automated data collection process.
Visualize your trends
Manage your data through Di-Dy's dashboards and reports. Benefit from a machine learning engine and algorithms that help you to anticipate the future.
Make accurate decisions
Define and implement transformation initiatives with your own Di-Dy specialist to meet your needs and build an effective, efficient and innovative work environment. Evaluate your company and benchmark your organization to get an overview of your competitive advantage.
An ALL-in-ONE platform
Di-Dy works in independent units. Request a demo to know more about them.
WORK
DYNAMICS
Understand your organization's work habits, flexibility and routines.
COMMUNICATION
RELATIONSHIPS
Communicate more and better between your teams and identify silos to eliminate them.
SPACE
OCCUPANCY
Understand the use of your workspace and optimize space management.
KNOWLEDGE
SHARING
Learn how to manage knowledge exchange and speed up its channels.
TALENT
MANAGEMENT
Attract and retain talent in your company. Use metrics to unleash your human potential.
USE OF
TECHNOLOGY
Acknowledge the real maturity of your organization in order to reach digital excellence.
WELL-BEING AND
COMFORT
Take care of the well-being of the people in your organization and ensure their comfort.
DIVERSITY AND
INTEGRATION
Celebrate diversity by embracing the differences that make your company unique.
What are the analytics behind Di-Dy's technology
Di-Dy uses the available infrastructure in the organization, obtaining the data from that existing infrastructure. It uses a broad range of connectors developed to extract information from different sources in an integrated way.
Di-Dy is fast, seamless and efficient. It doesn't interfere with the employees or their security or privacy systems.
We can correlate data in a way that has never been done before, increasing considerably the value of the data analytics.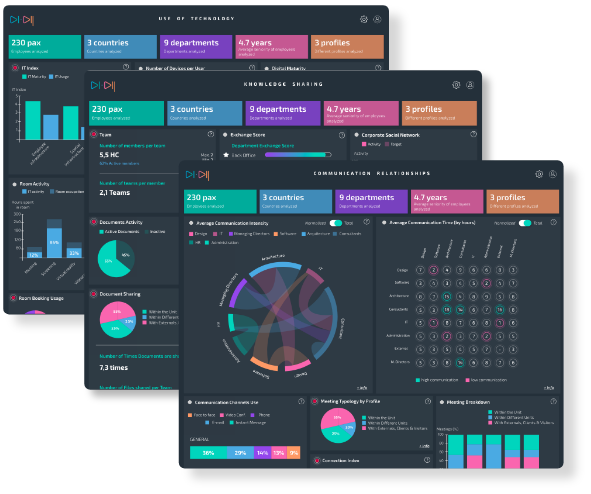 Where does the data come from?
Our machine learning engine collects the data from a big number of data sources through our connectors. Di-Dy also processes the data using our algorithms to build the most advanced people & workplace intelligence.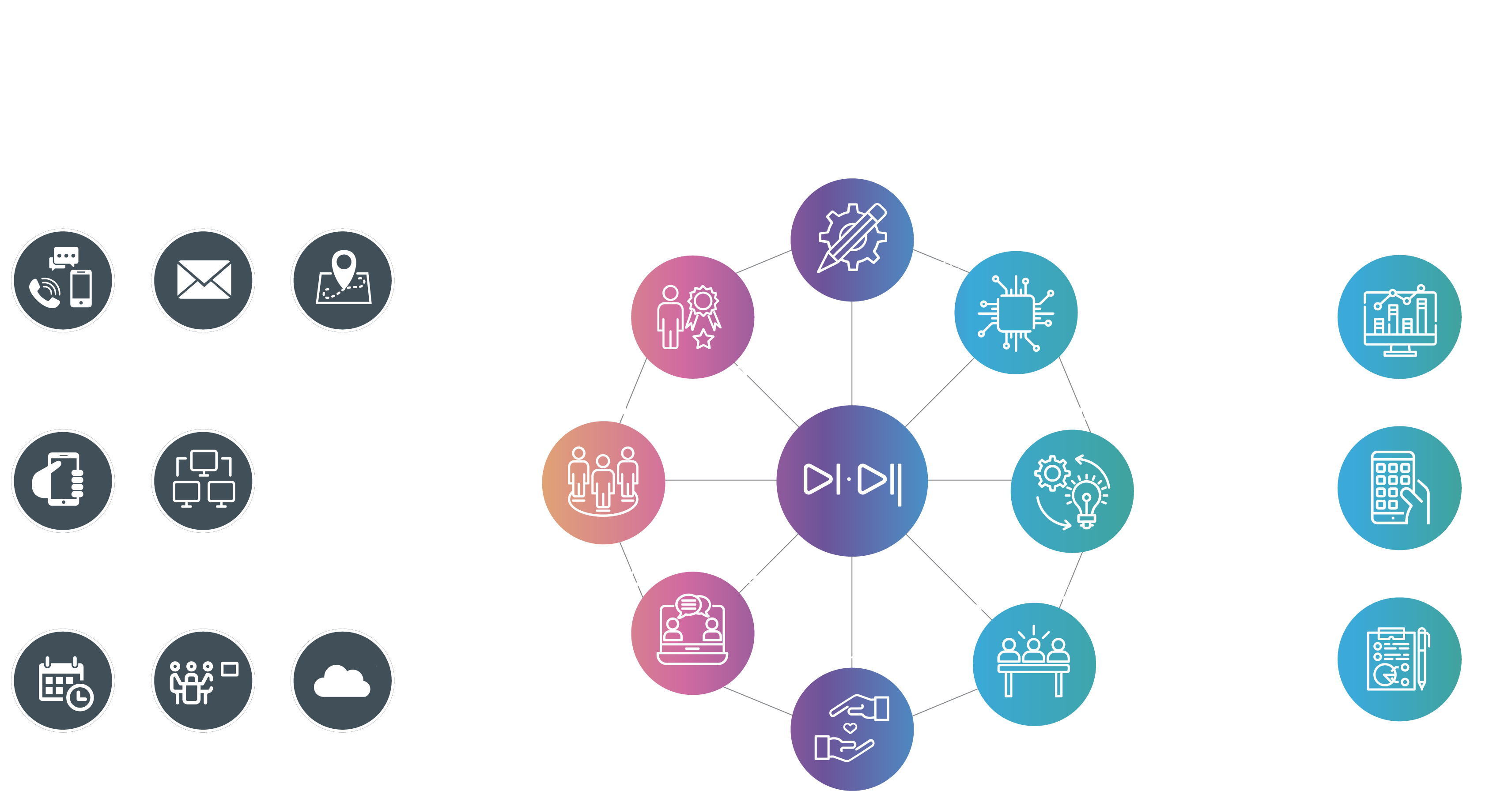 Frequently Asked Questions
Questions and answers about the product, the technology and the deployment. Contact us if you have any further doubts.
The Product
Why is Di-Dy the best analytics solution?
Di-Dy's main objective is to help organizations in making decisions considering all existing data. It provides the organization with a global and transversal vision. Other solutions study the problem vertically, returning a limited vision that does not provide the proper resources for decision-making.
The Product
How do we handle employee's privacy and data security?
Protecting employee's privacy is part of our DNA. Data is stored anonymously, without showing personal information, from which reports and visualization elements are generated in an aggregated form. Di-Dy strictly complies with the LOPD and GDPR data protection laws. If necessary, an expert team will advise you when communicating the product internally.
The Product
Can I build my own reports?
The objective of Di-Dy is to help the client create reports that contribute to solving their problems. Di-Dy has a data consulting department to design specific projects jointly with the client.
The Technology
What is the deployment time?
Together we will design a project and a roadmap. As soon as we start the set-up, we will be able to see relevant data in about 2-4 weeks. Di-Dy will be running and updating without additional effort, so the model will be improved and completed periodically.
The Technology
Is it necessary to install any system, app or complement?
Di-Dy is a solution that integrates different disciplines whose principle is based on the superposition of multiple data sets. It is built to provide a solution based on your current systems, so no ad hoc installation will be necessary. If so, we will advise you on how to improve your systems to optimize your analytical experience.
The Technology
How much does it cost?
The price depends on the project and the delivery. There is an installation fee and a monthly/annual user fee per service. Request a demo and we will contact you as soon as possible.
Contact us
Ready to know the big data potential of your organization?
Request your free demo!